Dogs in Dubai are finally being accepted and there many places that are dog-friendly in Dubai that you can now take them to without having to worry. After all not being able to go places with our beloved pets is a hardship that hits right in the center of our hearts.
Its' been said that dogs are a mans' best friend and there is no statement more true. There is no better companion for you than a dog. They are perfect for cuddles, long walks, sitting out under the shade, throwing around a Frisbee together or just plane old hugging when you've had a crappy day.
With a dog by your side you will never lack for companionship, you won't ever feel like you are alone in the world because that little dog in your life will love you unconditionally. It will give you the kind of camaraderie that is seldom available to most people. The kind of love that people think only exists in movies. After all the love of a dog is legendary. There have been so many movies made about it, the best one that we all know and love is of course 'Marley and Me.' The loss of Marley will never be forgotten.
So all in all, we have established how truly important dogs are to our lifestyle. We want to take these adorable creatures everywhere. We want them with us while we sleep, while we take a walk down to the mall, the park, to family gatherings and friend functions but sadly we aren't always able to do that. But have no fear, help is here! There are finally some dog friendly places in UAE that you and you dog can easily enjoy.
Take A Look At The Dog Friendly Places In Dubai
1. The Greens Is Definitely A Good Place To Take Your Pupper.
When you enter this beautiful gated community you will find yourself in a doggy heaven. There is a gorgeous sprawling park where you and your dog can run for miles, play catch, Frisbee, teach your dog some tricks and just laze about enjoying the breeze no matter the time of day. There's also a cafe there where you and your dog both can enter, eat some food after a long hour or two of play. Re-hydrate yourself and then head back home after spending a nice day with your dog.
2. Burj Park Is One Of The Newer Doggo Friendly Places
We don't like it when our dogs don't have a place to go with us, this is why Dubai is continuously making new places dog-friendly, to please its people. The Burj Park is one of those newer places. Its' quite beautiful and infinitely more dog-friendly than all the other places in Dubai. You will find dogs and humans of all kinds there, out to enjoy a good day with their favorite four-paw companion.
3. When In Doubt Go To Irish Village Is The Motto Of The Day
For the past 20 years there has been one place in Dubai which is always open for dogs and their people. We will not demean the ilk of dog by calling humans their owners, as they are not possessions after all! You can take your dogs there easily as long as you keep them close to you and of course as long as they are well-behaved. You can pick out and outdoor chair and table so that your beloved pupper isn't stuck inside all day and can still enjoy the sun.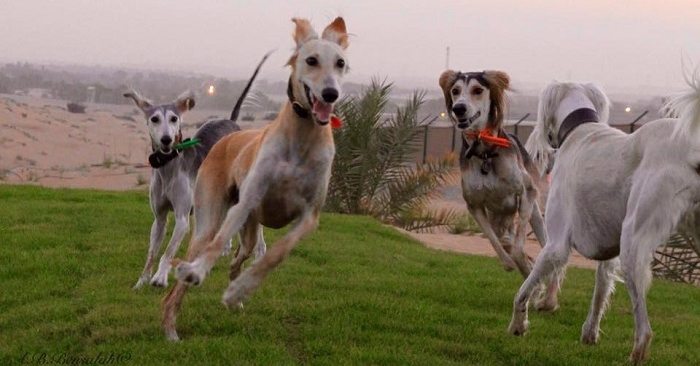 4. My Second Home Is The Perfect Spa Day For Your Doggie
This place has the largest indoor dog park where your dog can run wild and free. Just imagine his wily tongue lolling out while he runs against the breeze chasing after the ball you just threw. Can you imagine that happiness? And once you are done playing you can bring him to the dog-groomers available at the spa and your doggo will get the delux treatment. Other than that there are also various daycare services, as well as an indoor pool that you and your doggo should definitely take advantage of.
These are just the top few picks for dog-friendly places in Dubai, there are so many more. To name a few more, Al Qudra Lakes, Abu Dhabi Falcon Hospital, loud 9 Pet Hotel and Care, Al Hamra Village, and Ras Al Khaimah, etc. If any one of these places take your fancy don't waste another minute and the second you have time take your doggo out for the time of your lives.